Thermoplastic polyurethane (TPU) is a thermoplastic elastomer with high durability and flexibility.
The use of thermoplastic polyurethane has become increasingly more popular in a variety of industrial and recreational applications, while at the same time becoming more difficult to obtain due to global supply chain issues. The physical characteristics of this material provide a wide range of performance benefits and for many years now that it  has been the polymer of choice to displace PVC in many applications. In this article, we present five beneficial characteristics of TPU industrial grade.
Owing to its unique chemistry, it offers a large number of physical and chemical property combinations allowing it to fit into some of the most demanding applications such as wires and cables automotive, fuel tanks, bladders as well as other textile coatings. It has greater abrasion resistance than rubber, PVC and other polymers, offering both flexibility and workability and bonds easily to surfaces.
TPU can be classified under three main branches Polyester, Polyether and Polycaprolactone.
They can also be subdivided unto Aromatic TPU's and Aliphatic , which we shall discuss later in this article. It falls between the characteristics of plastic and rubber and because of its thermoplastic nature, it has several benefits over other elastomers, such as: abrasion resistance, mechanical properties- toughness and elongation, flexibility, low temperature resistance, and chemical resistance.
Thermoplastic polyurethane covers a broad array of applications.Its main attributes that place TPU above other materials include:
It can be vacuum-formed, solution coated or extruded
It's oil, grease, fuel, solvent resistant
It has superior chemical resistance.
Can be pigmented to match any color.
Excellent tensile strength and high elongation at break
It has superior abrasion resistance
Can be used for both as a hard rubber or a soft engineering thermoplastic.
It can be welded, painted, printed, and die-cut and is easy to clean and sterilize.
It is suitable for low temperature environments.
Being a thermoplastic, it is also recyclable!
Finding The Right Materials for Your Applications Is A Challenge
When it comes to designing Inflatable Rafts, Buoyancy Compensators, Life Jackets and Flexible Storage Tanks and many others end products, the challenge is multi-fold.   A combination of toughness, elasticity, chemical resistance, and cost all become a part of the decision process.
They offers nearly the same flexibility as PVC without requiring the use of plasticizers and it's even more durable. In fact, it can be up to four times stronger than similar elastomers like silicone and PVC.At E Squared we work with all the major suppliers of the material available in the market to bring to you the right combination of polymer and price.
Let us look more in detail at some of the benefits of using Thermoplastic Urethanes over other polymers available in the market.
Abrasion Resistance
For applications where abrasion and scratch resistance are critical like Inflatable Rafts, dock seals and oil booms, TPU is an excellent choice and can achieve 10x better abrasion than most PVC formulations.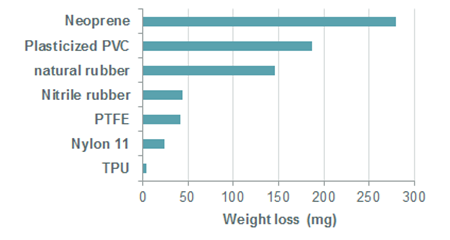 The abrasion resistance of materials is usually determined by measuring the weight loss of a specimen in a standardized wear test, ASTM D 3389, Standard Test Method for
Coated Fabrics Abrasion Resistance (Rotary PlatformAbrader), shown in the chart we can see that it has a significant advantage over other polymers.
Chemical, Grease, Fuel, Solvent, Water and Chemical Resistance
TPU Ether is great for water resistance, while it is superior for Fuel resistance, and both the polyester and polyether grades have great chemical resistance to solvents, acids and bases.
You can get more information on Chemical resistance from E Squared Website.
Soft, Semi-Rigidand Flexible Applications
TPU's can be found in a wide range of hardness, ranging from 55 Shore A to 88 Shore D.This helps make it suitable in a wide range of applications ranging from soft grips on tools to durable skateboard wheels. The unique nature of its chemistry makes it less susceptible to leaching of plasticizer which occurs in other polymers.
UV Resistance
Aliphatic TPUs offers a host of benefits for clear and/or light colors and ensure color fastness and high-quality aesthetic finish. The have superior Weathering and UV resistance along with all other mechanical and physical properties. TPU ethers can be UV stabilized and will retain most of their physical properties when exposed. However, they do have a tendency to yellow. TPU ethers that will be exposed to the UV generally will be dark in color or can be used where yellowing is not an issue of concern. Aliphatic type is used in our E Squared TPU 2051 product line for exposed water application where color yellowing is a concern.
Low Temperature Performance
From outdoor applications in the extreme conditions of Alaska to components for inside large industrial freezers, parts made with these materials can maintain their flexibility and performance even at sub-zero temperatures, allowing for performance in extreme cold conditions. At E Squared we have worked with our  suppliers to develop coated fabrics that will pass ASTM D 2136, Standard Test Method for Coated Fabrics—Low-Temperature Bend Test as low as -65 F and there are other extreme grades that are rated for -85F/ -65 C. Find out more about low temperature performance in our blog.
Fabrication Benefits
TPU is suitable for a wide variety of fabrication methodologies.The unique polymeric structure of it allows for greater application versatility and supports a wide range of fabrication methods– these include ultrasonic welding, heat sealing, high frequency/ Dielectric/ RF welding, laser welding,hot air welding, wedge welding, impulse welding and solvent bonding.
Other Benefits of TPU
Below are some of the other specialty applications and grades available.
Antimicrobial and Fungal Resistance
Skin Compatible
Clear film grades available
Non-Halogenated Flame Retardant
Recyclable
Anti-Static/ Electrostatic Dissipative (ESD)
High Moisture Vapor Transmission (HMVT)
Food Grade (FDA) and Potable water contact (NSF) grades are available.
Main Types of TPU
Polyester, Polyether and Polycaprolactone are the three common classes of TPU films.The physical performance of the substrate is modified byvarying the base chemicals. For instance, polyether TPUs offer good flexibility and tear resistance whereas polyester TPUs give high resistance to chemicals and oils. There is also the hydrolysis-resistant polycaprolactone TPU substrates which has the toughness and resistance of the polyester along with the low temperature and hydrolysis properties of Polyether , is suitable for applications involving prolonged water exposure.
TPU Main Classes

 

POLYESTER

POLYETHER

Excellent hydrolysis resistance

Good hydrocarbon resistance

High tear resistance

Excellent abrasion resistance

High physical properties

Good against microbial attack
Compatible with polar plastics

Good low temperature resistance
TPU's can be further subdivided under Aromatics and Aliphatic based on the isocyanates used in the Hard Segment of TPU's chemistry.
Aromatic TPU's are based on isocyanates like MDI, which are used in flexible, toughness and strength-based applications.
Aliphatic TPU's are based on isocyanates H12MDI, HDI and IPDI for applications that require light stability and optical clarity.
TPU at E2
Increasingly, many engineers, device designers and healthcare product manufacturers are switching to TPU over other types of plastics. TPU has the durability required for most product designs as well as the flexibility and compatibility to make it easier to transition over to TPU without significant changes to the current process.
If you're thinking about making the switch to TPU coated fabric, E2 can help. We offer a wide range ofTPU materials that can be customized for your applications. Get in touch with our team today to find out more about what you can create with TPU.
References:
McKeen, The effect of UV light and weather on plastics and elastomers 2013
Günter Scholz, Manuela Gehringe, Thermoplastic Elastomers: At a Glance, 2021
Omnexus,Complete Guide on Thermoplastic Polyurethanes (TPU), 2018
Acronyms:
TPU – Thermoplastic Poly Urethane
PVC – Poly Vinyl Chloride
RF – Radio Frequency
ESD – Electrostatic Dissipative
HMVT – High Moisture Vapor Transmission
FDA – United States Food and Drug Administration
NSF- National Sanitation Foundation
MDI- Methylene diphenyl diisocyanate
H12MDI – Hydrogenated MDI/ 4,4′-diisocyanato dicyclohexylmethane
HDI- Hexamethylene Di-Isocyanate
IPDI – Isophorone diisocyanate